Our spring courses are canceled due to the coronavirus, so we are putting some content online each day this week for parents to use with their children at home. We want to share it with everyone, not just those who signed up for the courses. We hope you find it useful. Sorry, the text is only Japanese, but the videos are in English.
This year's theme for younger and older children is "Five Senses!" Join us for five days of stories, crafts, games, and activities—all in English.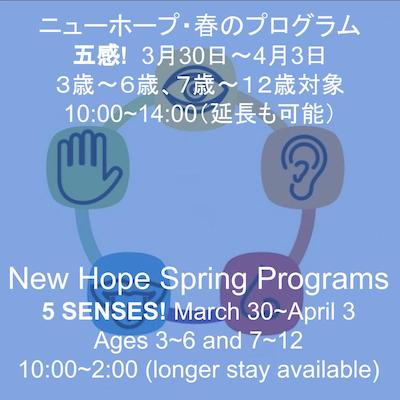 Dates: Dates: March 30~April 3. 10:00am to 2:00pm (drop-off from 9:30. Late pick-up available for an extra fee).
Ages: 3~6 years old (through first grade). 7~12 years old (through sixth grade).
Fees: ¥16,000 for five-day program or ¥4,000 per day. Pay in advance. ¥1000 per day for pick-up between 2:00 and 3:00. Consumption tax included.
Apply with a paper application form or online (younger children's application)  (older children's application).
Bring your lunch, drink, towel, toothbrush, cup. Also indoor shoes and change of clothes for younger children, and pencil and notebook for older children.
Let's have fun!
*Please note that the location for the older children's program is 5-1-3 Narimasu, next door to the preschool.